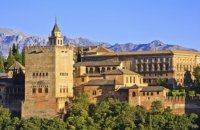 11 Days / 10 Nights Iberian Inspiration | 2018 Madrid to Lisbon
from $ 4899 Small Group < 20, Escorted Tour, Back-Roads Touring Co., One-Way Tours

East meets west, and past meets present. Spain and Portugal offer a heady mix of treasures, from Arabic palaces and Roman temples to Catholic cathedrals. We take it all in on a rural road tr...